Wethersfield Electrician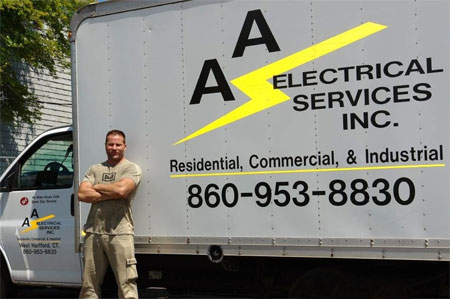 About AA Electrical
Welcome to AA Electrical Service! The most professional expertise you would need for your home. Backed by a 40 year reputation, AA Electrical will handle all your electrical needs with supreme customer service. We handle Commercial, Residential and Industrial Electrical Contractor Jobs.
Chris Shannahan is the president of AA Elctrical. Chris and his crew are ready to talk to you about your electrical needs. Always be safe when it comes to electricity and use licensed electricians. Contact AA Electrical for a free quote today.
Wethersfield Electrical Contractor
AA Electrical is well known and has had many clients in Wethersfield. If you're looking for an experienced Wethersfield Electrician, you should really give AA Electrical Service a call.
AA Electrical Services: 24 hour emergency service Electric Wiring Repair Lighting fixtures installed meter upgrades Recessed lighting Electrical troubleshooting Track lighting Electrical panel upgrades Fluorescent lighting Circuit breaker replacement Low voltage halogen lighting New circuits New Electrical Outlet Landscape lighting Electrical wiring repair Specialty lighting New electrical outlets Security lighting Code violations Motion sensors Electrical inspections Time clocks Machines hooked up Photo cells Appliances hooked up Ceiling Fan Transformers Smoke detectors Fluorescent ballast's Switches Outdoor lighting repair Dimmers Lighting design Ceiling fans Electrical design Exhaust fans Lamp replacement Safety GFI outlets Safty GFI Outlets Title 24 energy code Spas LED lighting Hot tub wiring Energy saving lighting Saunas / Steam bath's Flat screen TV outlets Pool wiring Plasma TV outlets